2x EMS Foot Massager
Offer:
2 EMS Foot Massager
2 EMS Foot Massager
Save $94.90
INSTANT RELIEF FOR SWOLLEN FEET, LEG PAIN & VARICOSE VEINS
Do you struggle with swollen feet, varicose veins and leg pain?
With our EMS Foot Massage Mat, swollen feet and foot pain are a thing of the past!
Thanks to the unique ACUMED™ technology, your legs will be stimulated and the clogged veins and arteries (reason for swollen feet and varicose veins) will be opened again.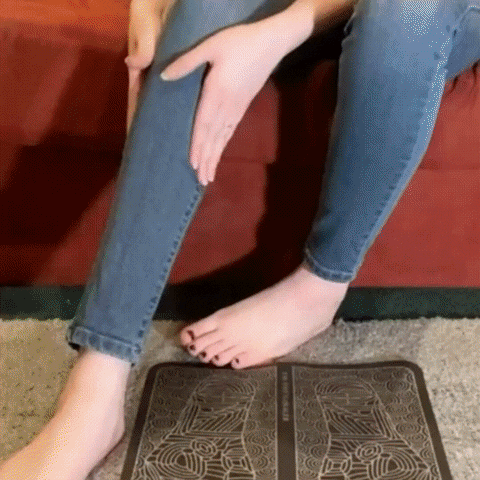 RELIEVES SWOLLEN FEET & LEG PAIN IN MINUTES
With just 9 minutes a day, swollen feet and foot pain are a thing of the past. Our EMS Foot Massage Mat can be used anywhere.
With just a few minutes a day, you'll start to feel so much better!
Especially older people and pregnant women are affected by swollen feet and foot pain.
UNTREATED SWOLLEN FEET AND VARICOSE VEINS CAN BE DANGEROUS
If clogged veins (the cause of swollen feet) and varicose veins are not treated, serious health problems can result.
Thrombosis, for example, is a common consequence of swollen feet and varicose veins.
DEEP PULSE STIMULATION LIKE A REAL MASSAGE
To replicate a true foot massage, our EMS Foot Massage Mat mat uses acupuncture pulse technology.
Electrical pulses aid in increasing blood flow to your heels, arches, soles, and toes.
It also helps with Plantar Fasciitis, Neuropathy, Flat Feet, Swollen Ankle & Cramps.
WIDELY USABLE
90 DAY MONEY BACK GUARANTEE
We offer a 90 day money back guarantee. If you are not satisfied, you can easily return your orders within 100 days.
WHO SHOULD NOT USE IT
Caution is advised in cases of heart disease and malignancy.

23,000 customers are impressed
Unbelievably fast shipping
Incredibly fast shipping, top packaging 🤘🤘🤘
Paula W.
5 stars!
As always very satisfied.Super store and top people.Highly recommended.
Olivia W.
From the beginning
I felt in good hands from the very beginning. I would especially like to emphasize the correspondence!
Lina R.