Lumbar Belt | for a strong back
Lower back pain? We have the solution!

With our lumbar belt, back pain such as herniated disc, lumbar spine syndrome, sciatica,  sacroiliac joint (SIJ) blockage or lumbago are finally a thing of the past.
Get rid of back pain fast!
Working at an office desk for a long time or doing heavy, physical work causes pain in the lower back. Injections and medications are only a temporary solution - but they do not help in the long run. You have to get to the source of the pain and eliminate it. Our lumbar belt relieves the back and corrects the posture, so that the back pain is eliminated permanently.

#1 Most Recommended & Used By Chiropractors Worldwide!
How Does Spinal Decompression Work?
The decompression belt quickly and easily loosens tight muscles and gets rid of back pain.
The belt helps hold your midsection together to help and stabilize your spine and muscles.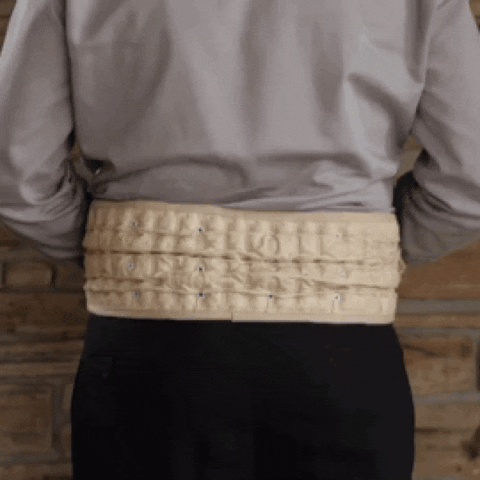 Finally enjoy everyday life again without pain!

The reason for back pain is that with poor posture (little movement, sitting a lot, etc.) the vertebrae are pressed against each other and the back is constantly tense as a result. This results in an unpleasant pain. If this is not treated in time, it can lead to a chronic injury.

Our unique pump function relieves your back immediately and eases your pain. Finally enjoy life again without pain!

Lumbar Spine
Our lumbar belt strengthens the lower back (lumbar spine) and improves posture. This trains the back to assume the correct posture.

Herniated Disc
Poor posture or physical work can lead to a herniated disc. Our lumbar belt relieves the pressure on the intervertebral discs, thus relieving the pain and relaxing the back muscles.

Sciatica
Often tension of the back muscles or blockages of vertebral bodies are the cause. By relieving the pressure on the vertebral bodies, the sciatic nerve is relieved. Our unique pump function relieves the vertebral bodies and thus also the sciatic nerve.

Sacroiliac Joint
A stiff spine often leads to a blockage of the sacroiliac joint (SIJ). Through the pump function of our lumbar belt we relieve the spine and give it more mobility again.

Money Back Guarantee
We offer a 90 day money back guarantee! If you do not feel any improvement within 14 days, we will refund you the full purchase amount!
Finally work pain-free!
I have felt pain in my lower back for as long as I can remember. The doctor told me that it was just tension (bad posture). But since the pain became unbearable, I then ordered the lumbar belt. After about 2 weeks I can say that the part really helps. I always pump it up to the maximum and I notice immediately, really immediately that my back is relaxed and the pain slowly goes away. I would never have thought, but I can only recommend it!!!
5 super stars from me !!!
Tuesday ordered. Friday get 😄 Delivery was already super and fast. Have had the belt today the first time at work and I must say super. He remains where he should remain seated he holds super I had the first time no pain at work 😁 and from the price we do not need to talk the is great. I would buy them again any time!
mega satisfied
I have no problem with it when wearing, even at night when sleeping. It helps me a lot in everyday life.
Because it relieves my pain, am duringdesenn almost pain-free, because it supports the muscles in my lumbar spine on the one hand and warms on the other hand just like now in winter.
Of course, you have to take it off every now and then, and then the pain comes back.
For me it helps, whether it helps others, everyone must test out for themselves.
I am satisfied with it.
The salvation for my back!!!
This thing is THE salvation for my back! I do not know why, but I have constant pain in the lower back - for years! Sure, I stand a lot at work, but I also exercise a lot. After googling, I came across Orthovital. I was a little skeptical, but everyone knows that if you have back pain, you'll try anything - EVERYTHING.
 
After about 4 weeks, I am grateful for my purchase decision. I wear the belt at work and I really notice how my back slowly relaxes more and more and the pain becomes less.
Super for the lumbar spine
I bought this belt because I still have unresolved problems in the lumbar spine. Unfortunately, you have to wait a long time for FA appointment, no matter if you have pain. Nobody is interested. I wear this belt on some days when I have a hard time keeping my back straight. Especially also when shopping, because I have very big instablity problems when wearing it. But in the long run, this is certainly not the solution. I still always try to do movement gymnastics in the form of stretching u. also some muscle building. Because that is still the best. The way to the doctor should still not be omitted u. also talk to the doctor about the use of the support.
23,000 customers are impressed
Unbelievably fast shipping
Incredibly fast shipping, top packaging 🤘🤘🤘
Paula W.
5 stars!
As always very satisfied.Super store and top people.Highly recommended.
Olivia W.
From the beginning
I felt in good hands from the very beginning. I would especially like to emphasize the correspondence!
Lina R.