Lumbar Belt | for a strong back
Lower back pain? We have the solution!

With our lumbar belt, back pain such as herniated disc, lumbar spine syndrome, sciatica, sacroiliac joint (SIJ) blockage or lumbago are finally a thing of the past.
Get rid of back pain fast!
Working at an office desk for a long time or doing heavy, physical work causes pain in the lower back. Injections and medications are only a temporary solution - but they do not help in the long run. You have to get to the source of the pain and eliminate it. Our lumbar belt relieves the back and corrects the posture, so that the back pain is eliminated permanently.

#1 Most Recommended & Used By Chiropractors Worldwide!
How Does Spinal Decompression Work?
The decompression belt quickly and easily loosens tight muscles and gets rid of back pain.
The belt helps hold your midsection together to help and stabilize your spine and muscles.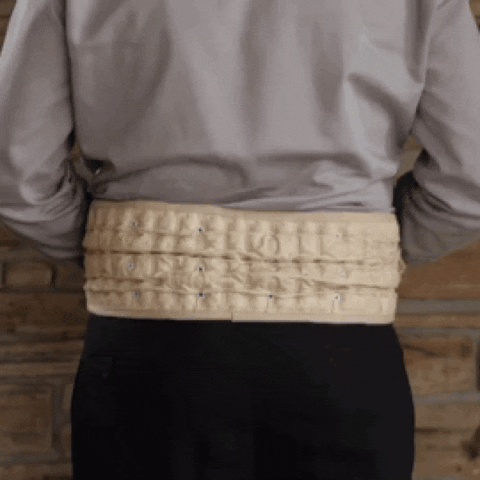 Finally enjoy everyday life again without pain!

The reason for back pain is that with poor posture (little movement, sitting a lot, etc.) the vertebrae are pressed against each other and the back is constantly tense as a result. This results in an unpleasant pain. If this is not treated in time, it can lead to a chronic injury.

Our unique pump function relieves your back immediately and eases your pain. Finally enjoy life again without pain!

Lumbar Spine
Our lumbar belt strengthens the lower back (lumbar spine) and improves posture. This trains the back to assume the correct posture.

Herniated Disc
Poor posture or physical work can lead to a herniated disc. Our lumbar belt relieves the pressure on the intervertebral discs, thus relieving the pain and relaxing the back muscles.

Sciatica
Often tension of the back muscles or blockages of vertebral bodies are the cause. By relieving the pressure on the vertebral bodies, the sciatic nerve is relieved. Our unique pump function relieves the vertebral bodies and thus also the sciatic nerve.

Sacroiliac Joint
A stiff spine often leads to a blockage of the sacroiliac joint (SIJ). Through the pump function of our lumbar belt we relieve the spine and give it more mobility again.

Money Back Guarantee
We offer a 90 day money back guarantee! If you do not feel any improvement within 14 days, we will refund you the full purchase amount!

23,000 customers are impressed
Unbelievably fast shipping
Incredibly fast shipping, top packaging 🤘🤘🤘
Paula W.
5 stars!
As always very satisfied.Super store and top people.Highly recommended.
Olivia W.
From the beginning
I felt in good hands from the very beginning. I would especially like to emphasize the correspondence!
Lina R.