EMS Foot Massager™ | Healing Mat
Do you experience leg pain or swollen feet
and ankles?
RELIEVES PAIN IN MINUTES
Your feet are the cornerstone of your entire body.
A simple foot reflexology massage can make a world of difference after a long day on your feet, walking home from work, or even squeezing your feet into an unpleasant pair of shoes.
With just a few minutes a day, you'll start to feel so much better! You will be pain free again and feel better!
DEEP PULSE STIMULATION LIKE A REAL MASSAGE
To replicate a true foot massage, our Foot Recovery™ mat uses acupuncture pulse technology. Electrical pulses aid in increasing blood flow to your heels, arches, soles, and toes.
This also helps with Plantar Fasciitis, Neuropathy, Flat Feet, Swollen Ankle & Cramps.
OUR FEET ARE THE HEART OF OUR BODY
The health of your feet affects your overall physical health!
Our entire body comes together in the feet. Our feet are the central nervous system of our body.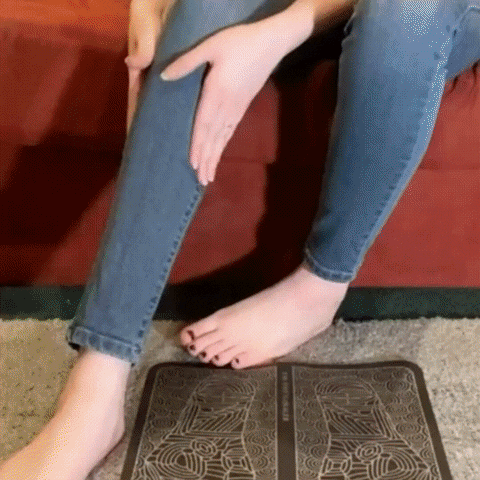 A PROVEN METHOD FOR CENTURIES
Foot massage has been around for hundreds of years, and spans many cultures. It's frequently been used to improve health and relax the body.
A foot massage will help to relax the whole body, helping you to sleep better, and leaving you with a rejuvenated energy to bring to your day.
WIDELY USABLE
BENEFITS
✅ quickly relieving pain
✅ stimulate the acupuncture points
✅ 9 customizable intensities
✅ 6 massage modes 
✅ reducing physical and mental exhaustion
23,000 customers are impressed
Unbelievably fast shipping
Incredibly fast shipping, top packaging 🤘🤘🤘
Paula W.
5 stars!
As always very satisfied.Super store and top people.Highly recommended.
Olivia W.
From the beginning
I felt in good hands from the very beginning. I would especially like to emphasize the correspondence!
Lina R.